This is a Sponsored post written by me on behalf of Miracle-Gro. All opinions are 100% mine.
One of the biggest things that has bummed me out about renting is that I wasn't allowed to do very much planting. Anything that I wanted to plant needed to be in pots which is fine, but I have always wanted to try my hand at real gardening.
There are so many fun garden projects that I have in mind for the new house but this year I am starting slow. Unfortunately I don't have a very green thumb and I need a little practice before I start digging up my yard with reckless abandon. We also had some late snow this year with a good-sized snow storm on May 1st that slowed down my plans a bit. Yes, snow in MAY! Welcome to The Rockies.
While we're new to Colorado and have been here for less than a year, I have been doing some reading and it sounds like gardening here will be a bit challenging with the clay soil, lack of rain, and unpredictable weather. This is where Miracle-Gro comes in. I will need a great soil and plant food in order for my plants (and eventually vegetables) to survive, much less thrive.
We have a gorgeous tree in the yard of our new house that had a nice stone border around it but the inside was filled with weeds. I decided that to do justice to the tree I would dig out the weeds and add some flowers. By the time I got all of the weeds out I wasn't left with much usable soil so I added some Moisture Control Potting Mix and planted my flowers. I still have some weeding to do around the border but it looks a million times better than it did!
I have also added some potted plants in the back yard as well as some hanging pots around the house. So far they have been thriving (yay!) and are looking pretty fantastic, if I do say so myself.
I have seven pots of these gorgeous snap dragons along the back of the yard. I have always loved snap dragons. They bring back memories of our yard as a kid when I used to make them "talk" by gently squeezing the sides of the flower and watching their "mouth" open. Come on, I know I'm not the only one who did that!
This plant wasn't in the best shape when we bought it though it was in better shape than the rest of the ones like it at the garden center. As you can see one of the flowers still doesn't look too happy but the entire plant is looking so much better than it did when I first planted it. Thank you, Miracle-Gro!
Then there are these beauties in the front of the house. Tiger lilies have long been one of my favorite flowers and back in the day when I first got online my AOL screen name had tiger lily incorporated into it.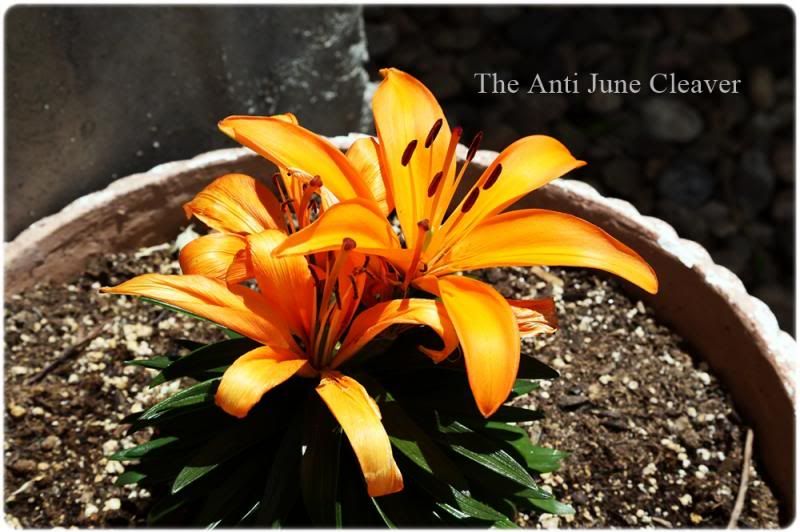 I didn't really think that they would take to life in a pot very well but I had to try. We have a lot of river rock landscaping around the house so I couldn't plant a lot of these but I plan on removing some of the rock and replacing it with soil so that next year I can have a tiger lily extravaganza in front of my house!
I am so happy with how my flowers have been flourishing that next year, when I also remove some of the rock from the back yard, I am going to try a vegetable garden! I can't wait! Heck, I may even try it for the fall if I get too impatient.
Do you have a garden? What has been your favorite gardening project so far?
Like The Gro Project from Miracle-Gro on Facebook for some great ideas on beautifying your yard and get some Pinsperation by following them on Pinterest. I know that I am!