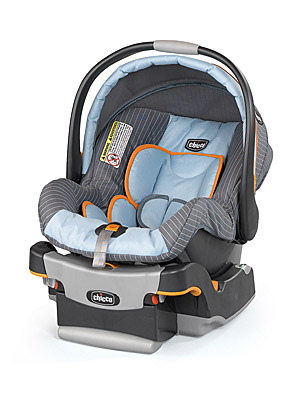 As I sit here looking for something for my husband for Father's Day (I know, last-minute as usual) I have to shake my head. I don't know what it is about me but I always seem to want that one thing that isn't readily available. "Oh, I love that shirt, but only if they had it in a different color" and then I search high and low for that particular color. I'll even pay a little more for the color or style that I really want. I think this is why I'm more of an online shopper.
For example, when I was pregnant with K I knew that I wanted to go with the Chicco KeyFit travel system but it had to be in the blue and grey with orange piping. Had to be! But of course the color was hard to find as I assume it was recently discontinued. Of course it was because that's how I roll.
I searched high and low for this travel system and each time "I found one" I was told that it was no longer available once I put it in my shopping cart. This just made me need it even more because I don't like to be told that I can't have something. It's the only child in me.
After a few weeks of searching, as I was about to give up and settle for another color, I finally found it! And it was available! The best part was that it was available for the retail price on Walmart's online store! Score! I had such a sense of accomplishment that when The Husband came home I practically screamed, "I FOUND IT!" while he looked at me like I had three heads. Honestly, I can't say that I blame him.
Have you ever had an irrational "need" for an item you were purchasing?