We had a hard time coming up with Christmas dinner ideas this year. We just had turkey on Thanksgiving and didn't want to do that again; we wanted something a bit more special. Ultimately we decided on a beef roast with horseradish sauce.
Considering how much difficulty we were having, I wondered if this was a normal yearly question for other families as well. I know there have to be more people like us out there who like something a little different than another turkey, so I found some great sounding ideas worthy of a Christmas dinner. I have also included some vegetarian options because they have to eat more than just potatoes and green beans on Christmas.
Christmas dinner ideas for the meat lovers:
I love a good pork roast. We make pork roast with apples on a normal Tuesday night, but there are ways to dress up this classic and make it a part of your holiday table.
I don't normally think of ham when I think of Christmas dinner since we do ham for Easter. This looks and sounds so delicious that I would happily rethink my ideas of ham on Christmas.
Salt and Pepper Crusted Prime Rib
We made prime rib and lobster tails for Thanksgiving one year. Every once in a while we like to switch things up from the traditional. It was a beautiful meal that is more than worthy of a Christmas dinner.
Roast Beef Tenderloin with Horseradish Cream
This is my favorite. I am so in love with a beef roast and horseradish sauce. For me, this beats any steak any day of the week.
Lemon and fennel are a nice, light option for those who don't want to eat yet another heavy meal.
I have never had a standing rib roast, but this recipe makes me want to try one. It looks and sounds amazing so this may be on the menu for next year.
Cornish Game Hens with Apricot Glaze
I love cornish games hens because they are so easy to eat and present. They are everything that I love about a whole roasted chicken in a cute little package.
Vegetarian Options:
These are just beautiful and worthy of any holiday table.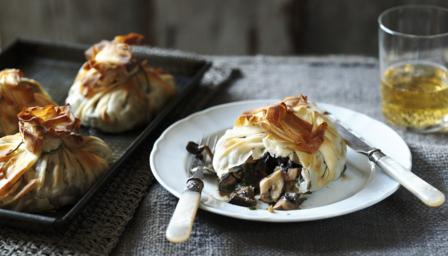 I love spinach stuffed shells and for years, I made spinach lasagna for Christmas dinner. I haven't tried it with swiss chard, but I am definitely going to try it.
Homemade Tofurkey with Brown Rice Stuffing
I don't know anything about a tofurkey. Truth be told, it scares me a little but this sounds like an interesting and tasty spin on a vegetarian classic (?).