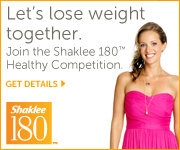 I feel like I have failed but I have to dust myself off and start again from the beginning. You may remember that I was chosen to be a Shaklee 180 blogger. The first month I did okay despite trying to figure out how many calories were right for me. Then life happened . . .
Trying to overcome the stress of buying your first house and moving doesn't mix very well with dieting. We were running around, busy, and had quite a bit of our stuff packed up. It was easier to grab something on the run or eat out.
Then I had two family members pass away. One of them actually passed away in November but her memorial service was in May. The other passed away a week or two before said memorial service. They aren't blood family, but these are two women that I have known all of my life and were a huge part of it. They were no less of an aunt to me than my blood aunts, and in some ways they were more so. Not only did their passings make me sad, they brought up some other issues that I deal with off and on.
I'll let you in on a little secret. I have struggled with depression for the vast majority of my life from my teen years until now. I have been in a pretty decent funk for a while now over a variety of issues. This has led to emotional eating and absolutely no desire to go for a walk or exercise. But another thing that adds to my funk is the size of my butt so I need to get back on the wagon and stay there!
I thought about terminating my contract and calling it quits because I feel like a bit of a failure but I decided to continue on. A few weeks ago I talked about starting a Pescetarian diet. So far it is going very well and I haven't missed meat at all. I think this will translate very well into the Shaklee 180 program and I am now ready to get back on the program. So today I am officially back on the wagon!
What keeps you motivated while on a weight loss program?