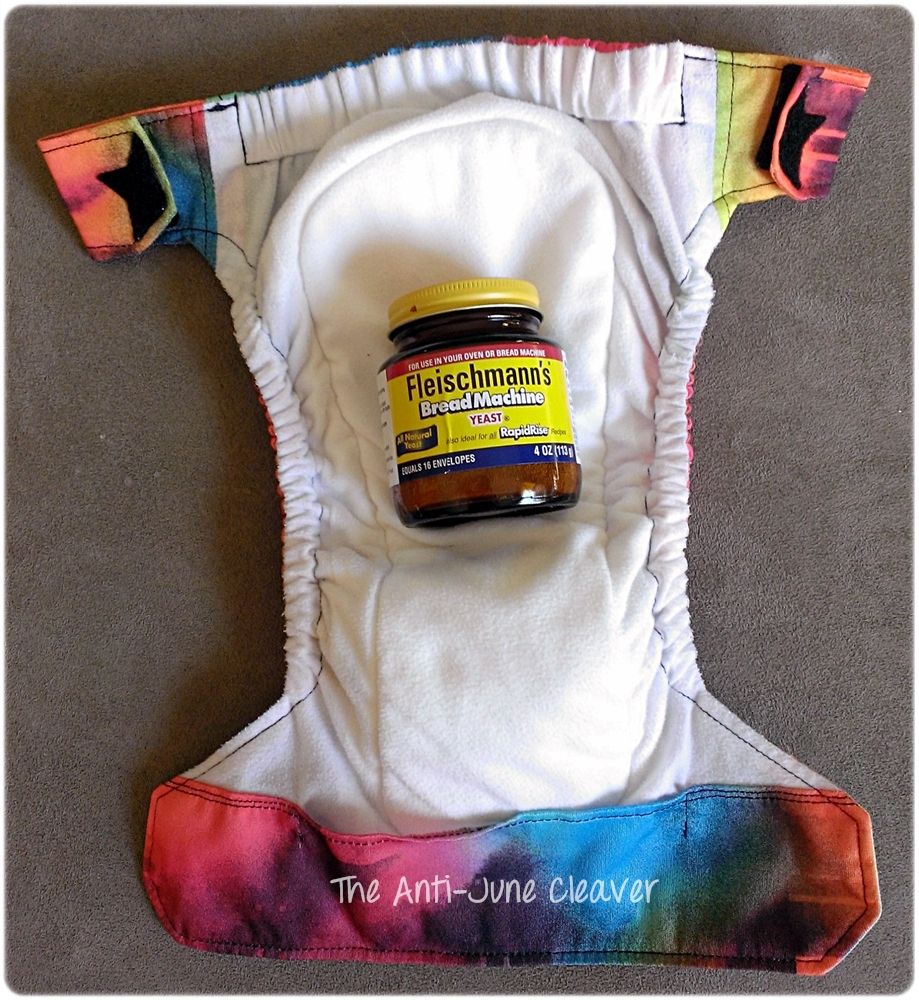 How do you know if you have yeast? There are several different types of diaper rash but if you have a prickly looking rash that doesn't improve or go away within 24 hours of using typical diaper creams, the chances are that you have yeast. *For the first time you should visit your doctor to make sure but after you have it once, you're likely to recognize it if you get it again.
Yeast is a very stubborn fungus to get rid of and your first step must be to treat the rash. If diagnosed by a doctor they will likely give you a prescription for an antifungal cream. If you have had yeast before and you no longer have a prescription you can use an over the counter cream for athlete's foot, jock itch and ringworm. The generic name is Clotrimazole which is the same as the brand name Lotrimin. These creams are not safe for cloth diapers so you will need to use disposable diapers, flushable inserts or a fleece liner in your cloth diapers.
Once you've tackled the rash, you must treat all of your diapers, cloth wipes, and reusable diaper liners (if you use them). There is no getting around this because if you don't you will reinfect your baby. There are several things people do to treat yeast, but what I do is this:
As with anything I post here, I have used this treatment myself with success before posting it. My son has had a couple of yeast rashes while he was in cloth diapers with outbreaks usually about six months or more apart. The rashes were diagnosed and treated by a pediatrician so I wasn't maybe treating something that seemed like it might be yeast.
While bleach will kill yeast in diapers, we all use cloth diapers for different reasons and not everyone is comfortable using bleach for several reasons. Personally, I am not anti-bleach, but I like to treat things in the most gentle way possible first instead of automatically resorting to caustic chemicals that have been known to damage fabric and irritate the skin. While there are some cases where bleach is the only answer, it is possible to remove yeast from cloth diapers without bleach.
Once your diapers are clean of waste, wash them in HOT water, around 125-130 degrees without going over.
To the hot water add about 50-60 drops (HE) to 2 tsp (non-HE) of grapefruit seed extract depending on your machine and a scoop of oxygen bleach such as OxiClean, Biokleen, or a store brand.
Do a second rinse to make sure all of the GSE and oxygen bleach is out of your diapers
If you're comfortable with using chlorine bleach you could add a 1/4 – 1/2 cup depending on your machine to disinfect your diapers. The GSE/oxygen bleach treatment worked for me so I haven't had to resort to this for yeast.
You should now be yeast free. Some people also choose to treat towels that have touched their baby's bare bottom while they were infected. Tea tree oil is also popular for treating yeast but in my research I have read that you need a LOT of it to work and even then it doesn't kill the spores while grapefruit seed extract does, but other people have had success with it.
This routine has worked for me more than once and also for other cloth diapering parents but as with anything, nothing will work for 100% of people 100% of the time. For those cases, you may have to turn to bleach.
Update 8/9/13: There have been questions around the interwebs about whether oxygen bleach like OxiClean and BioKleen actually disinfects or if its main purpose is just for whitening. Many of us don't have a microscope in our homes to prove or disprove its disinfectant properties but here are some sources that state that it does kill at least some germs:
So while oxygen bleach is probably not enough on its own to kill yeast, it can't hurt to add it while trying to rid your diapers of yeast and other bacteria.
Update 10/14/13: There have been recent questions about the effectiveness of GSE on yeast and whether it is truly an antifungal. It has been stated that it is the preservatives in GSE that are what kills yeast and not the GSE itself. I am not a scientist and do not have a lab set up in my basement (though The Husband has one at work. Maybe I should convince him to set up an experiment for me, haha). Because of this I can't confirm or deny these claims, but what I can tell you is that my diapers had yeast, then I used the regimen above and they no longer had yeast. Whether it is the preservatives or the GSE itself shouldn't really make a difference anyway as long as whatever property kills the yeast is present.
Update 11/6/13: Since most of us don't have access to a microscope at home and never really know if we have gotten rid of yeast until the rash stops, The Real Diaper Association (RDA) is currently conducting on how to get rid of yeast in cloth diapers and their findings on cloth prefolds is pretty interesting. More experiments on other types of diapers and fabrics will be conducted.
Update 7/2/14: Some further data from RDA continues to make a compelling case for GSE over TTO. RDA's yeast experiment update.